Air Arms S510 XS Ultimate Sporter
During this segment of American Airgunner, Rossi Morreale is at StoneRidge Wildlife Ranch in Bowie, Texas talking about the features of a .25 caliber Air Arms S510 XS Ultimate Sporter. This gun is the Cadillac of air rifles, perfect for competition shooting, Rossi decides to take the Air Arms for a nighttime patrol for raccoons and possums.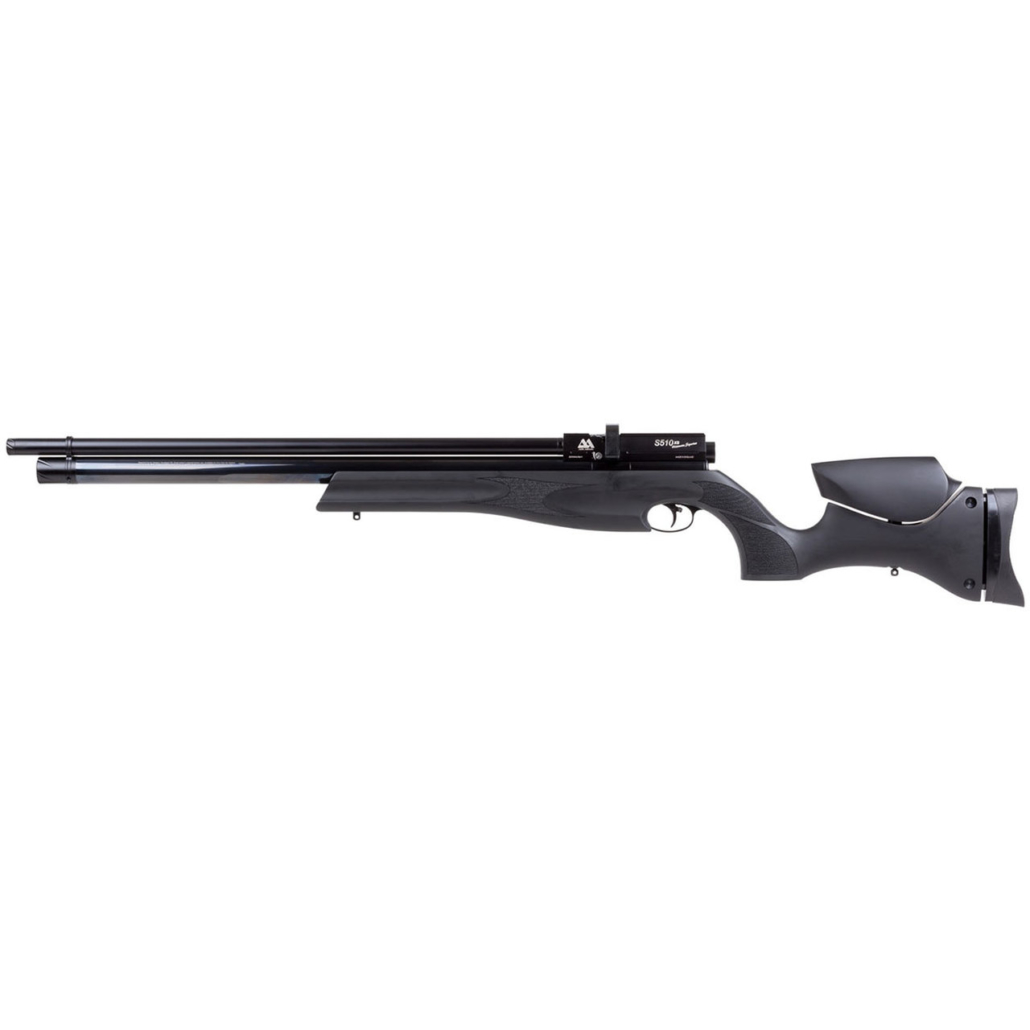 Air Arms S510 XS Ultimate Sporter Xtra Air Rifle, FAC, Black Soft Touch
Precharged pneumatic
Smooth sidelever cocking mechanism
10-shot repeater
2-stage adjustable trigger with safety
11mm scope grooves (no open sights)
250 Bar / 3,626 PSI Fill Pressure
Built-in manometer (air pressure gauge)
Built-in adjustable power
Fully shrouded Lothar Walther barrel
Ambidextrous Black Soft-Touch Stock
Adjustable cheekpiece
Checkered pistol grip and forearm
Adjustable rubber buttpad
Rear sling swivel stud
Fully-Regulated 288cc cylinder
60 shots in .177, 55 shots in .22, 40 shots in .25
Accessory rail under forearm with built-in adjustable sling mount
Includes 2 rotary magazines, 4 hex wrenches, fill adapter and airgun oil
The Ultimate Sporter Xtra XS takes one of the most cherished platforms among airgunners worldwide and adds even more value to an airgun platform at the height of its powers. Now with the introduction of a regulator to this system, the Air Arms S510 Xtra XS is the S510 action perfected, giving shooters more consistency and shots per fill than ever before.
This XS features an all-weather, Ultimate Sporter tactical black Soft-Touch stock with seamless fit and finish that reflects Air Arms dedication to traditional craftsmanship.  Born for long woodland hunting, the XS includes checkering on the grip and forend ensuring a sure hold, further enhanced by an adjustable cheekpiece and buttpad.  Each of these rifles includes integrated sling mounts for field carry and an accessory rail ready to accept a bipod or palm shelf.
Airgunners dreamed of a regulated S510, and Air Arms delivered, all while boosting the power of the increasingly popular .25 caliber. With this regulated upgrade, the XS can achieve a whopping 44 ft-lbs in .25, 32 ft-lbs in .22 and 20 ft-lbs in .177. Power isn't the only thing increasing in the XS. The Xtra's regulator offers increased consistency and shot counts from its 288cc cylinder, delivering an impressive 60 (.177), 55 (.22) and 40 (.25) shots per fill with minimal velocity change. These long-shot strings are further aided by a built-in power adjuster to balance power and shot count. Each XS Xtra features the prized Lothar Walther barrel, which gives this platform its renowned accuracy. Each rifle includes 2 of Air Arms perfected 10-shot indexing magazines, smooth sidelever cocking mechanism, and an easy to read built-in manometer.
The Air Arms Ultimate Sporter platform has turned heads at the range since 2013 with shots so accurate they require a double-take. If you want the longest, most consistent shot strings with surgical accuracy, join the elite ranks of Air Arms airgunners with S510 Ultimate Sporter XS Xtra.