Air Rifle Competition Target'
Air rifles lend themselves to a variety of shooting opportunities. From developing marksmanship, to hunting, to just plain plinking. Sighting down the barrel of an air rifle is tons of fun, and choosing the right target for your range time is an important factor to make the most of your shooting experience.
https://youtu.be/NFNpwNtDd1k
Friendly Competition
If you love to shoot air rifles and you love competition, then the American Airgunner's brand new Dead Eye Dual Challenge by RX Target Systems is just the ticket for you. Specifically designed for the 2020 season of the American Air Gunner Challenge, the Dead Eye Dual Challenge target is designed for a twenty five yard range and lots of smiles.
This unique target is designed as a two shooter competition target, and is the perfect setup for plenty of fast paced friendly competition. Accuracy and speed are combined in friendly competition to determine the victor with this air rifle challenge, as a race to the middle. The Dead Eye Dual Challenge features three color-coded flip down style targets arranged from left to right: red, tricolor red / white / blue, and blue.
The object of the game is for each shooter to shoot their color target (i.e., Red Team or Blue Team), from outside and working inward flipping down the target paddles for positive hits. Be the first to drop the center white target, and you win! Going "mano a mano", standing shoulder to shoulder with your air rifle friends, and taking aim at the American Airgunner Dead Eye Dual Challenge target creates heart pounding competition that requires both speed and accuracy to win.
Moving from a smaller, more precise target on the outside, to larger targets in the middle, the Dead Eye Dual Challenge air rifle target incorporates focus and accuracy under pressure with speed and agility.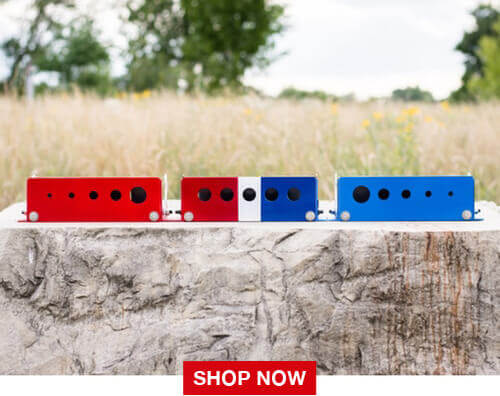 An Air Rifle Target Built to Last
RX Target Systems works to develop exactly the target you need at precisely the moment you need it. Through precision machining and quality materials, RX Target Systems has developed a line of air rifle targets that will last shot after shot.
Having multiple shots on target before needing to reset allows for more time with your rifle, and less time dealing with your target. The 25 meter Dacron reset cord allows for going "best two of three" without even having to walk to the target.
The Dead Eye Dual Challenge target is built with long lasting stainless steel faceplates and reset arms. You can choose either the 10-gauge drop down paddle option (limited to 30-foot pounds) or the ¼ inch drop down paddle option (limited to 45-foot pounds).
Manufactured to be solid, robust, and dependable, but portable and adaptable at the same time, RX Target Systems has built an amazing platform for air rifle gunners looking to sharpen marksmanship, and enjoy friendly competition with friends and family.
Have Target, Will Travel
Air rifles lend themselves to a variety of shooting applications. Shots from an air rifle are virtually silent and there are zero fumes or emissions from burning gunpowder or primers. Portable and safe to shoot in a diverse range of locations with a safe backstop, air rifle fun is easy to share. Pack along two air rifles and the new Dead Eye Dual Challenge target for your next camping trip, barbeque, or day at the lake. Find yourself a safe and responsible place to shoot, and let the fun begin!